Happy Publication Day to Not Your Ex's Hexes by April Asher!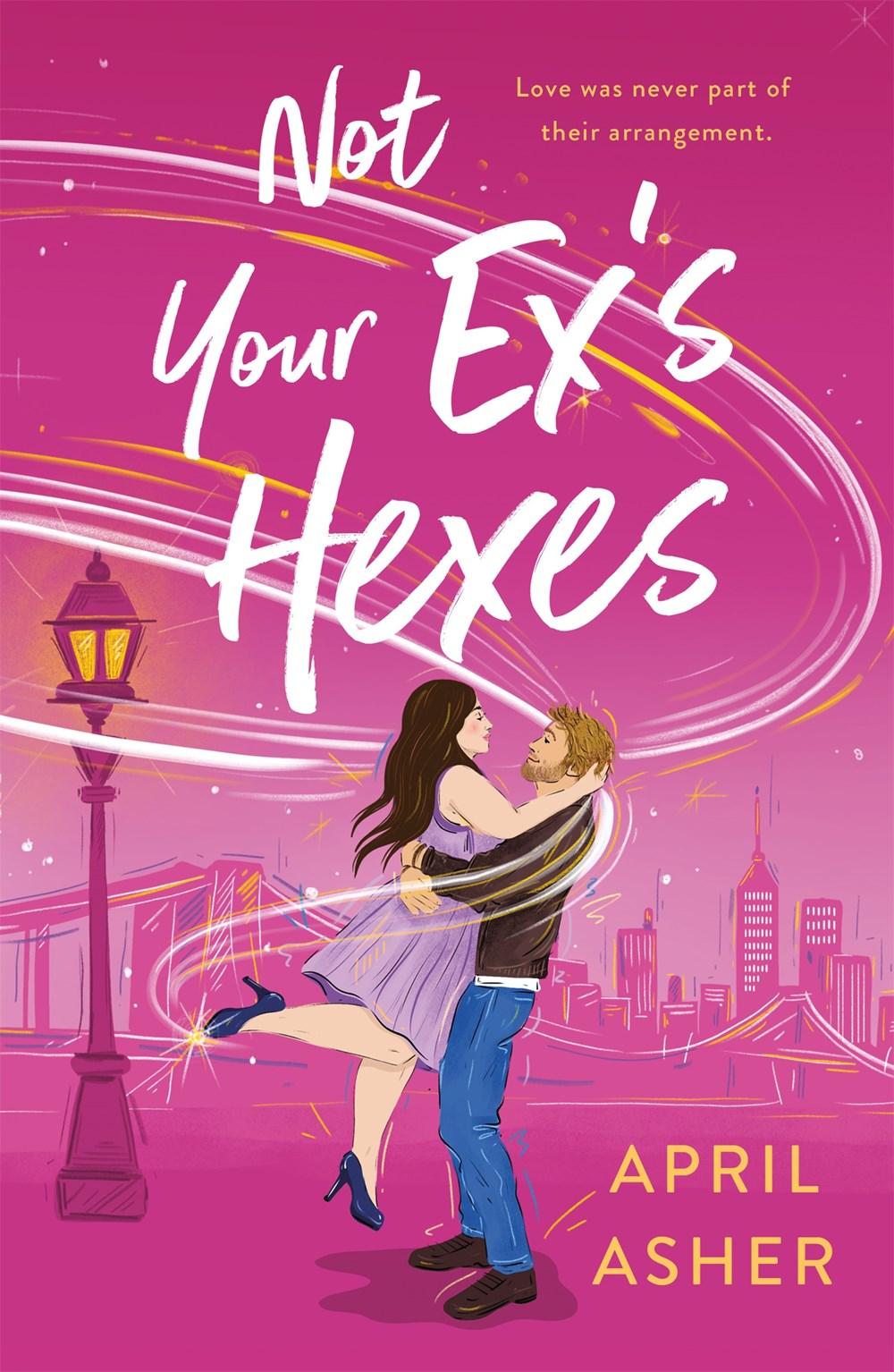 From the blurb:
In April Asher's new Supernatural Singles novel, a witch, freed from her constricting responsibilities, tries to find her place in the world—which might just be with a broody half-demon.
Rose Maxwell spent her whole life preparing to be the next Prima on the Supernatural Council. But now that she's stepped down, it's time for this witch to figure out who she is and start fresh. Rose is trying to focus on herself, and not think about her impulsive one-night stand with Damian Adams, a half-Demon Veterinarian who she can't get out of her head. Neither of them is looking for a relationship. When a misunderstanding requires Rose to complete community service hours at Damian's animal sanctuary it becomes impossible for them to ignore their attraction to each other. A friends-with-benefits, no feelings, no strings arrangement works perfectly for them both.

After Rose stumbles her way into a supernatural bounty hunting situation, Damian finds himself back on the periphery of a world he thought he left behind. Damian doesn't approve of Rose becoming a Hunter, but if there's one thing he's learned about the stubborn witch, it was telling her not to do something was one sure-fire way to make sure she did it. There was only one other option—training her himself and hoping she changed her mind. But seeing Rose succeed awakens feelings Damian never knew he had…and shouldn't have. Because thanks to his ex's hex, he is unable to fall in love. If he does, he'll not only lose his heart—but his humanity.
************************************************************
Publication Date: February 7th, 2023
Publisher: St.Martin's Press
Romcom
ISBN 9781250808011, 1250808014

As good as the first one! If you haven't read Not the Witch You Wed and would like to start the series from the second book, it can be read as a standalone. We get enough backstory of what happened to Violet falling in love with her gorgeous Alpha Lincoln and all the events that led to Rose stepping down from her postion of Prima Apparent, so don't worry you won't feel overwhelmed or lost, but if you have choice, start from the first book- Maxwell sisters and their Gran are a joy to behold and April Asher knows a thing or two about writing a super-charged hot and spicy scene.

Back to Rose…I loved the relationship the three sisters had in Not The Witch You Wed and it was clear that whatever Rose decides to do with her life now, her triplet sisters are going to back her in every way possible..and this is exactly how the Magic Triad find themselves on the wrong side of the law. Rose tried to rescue two sick mares only to be caught red-handed and sentenced to community service in an animal shelter. She has a super strong affinity to animals (Could this be her purpose in life?), but the job involves dealing with a certain half-demon/veterinarian she had a one night stand with.
Mature, responsible, and wise adults as we are, we do know that running into or even worse working with your one-night-let's-have fun-and-go-our-merry-way is a recipe for awkwardness and nothing else, but our little romantic hearts keep believing that no mattter how and where you meet your soulmate, you'll find your way to being with each other. With or without grand gestures.

I was a big fan of Violet who needed to let it go and trust her powers and I'm an even bigger fan of Rose who is trying to figure out her place in life, without sugarcoating things or lying to herself. She is strong, capable, and focused on others (people and animals). Sometimes a serious relationship or even an engagement doesn't work out and it's only natural to feel lost until you find your feet again. Pretty realistic and this is what kept me hooked on the story. Plus, Damian is super-hot with his existential broodiness and dedication. These two have some serious chemistry going on… Only a devoted fan of the romcom genre could come up with this level of hotness!

If curling up with a paranormal romcom is your idea of happiness, don't miss this sweet and spicy witchy series. Can't wait to read Olive's story, she may be the youngest of the three Maxwell sister, but she sure sounds intriguing!
Thank you to NetGalley and St.Martin's Press for the review copy provided in exchange for an honest opinion.
About the author:
APRIL ASHER was hooked on romantic stories from the time she first snuck a bodice-ripper from her mom's bedside table. By day, April dons dark blue nursing scrubs and drinks way too much caffeine. By night, she still consumes too much caffeine, but she does it with a laptop in hand. She pens romantic comedies with a paranormal twist, but also writes high-octane romantic suspense as April Hunt. She lives out her own happily-ever-after with her college-sweetheart husband and their two children.