This book was a delightful surprise. Light, enjoyable, magical and, above all, delicious, as food and savouring food is an integral part of this wonderful debut novel by Roselle Lim.
Natalie Tan gets the worst kind of telephone call. Her agoraphobic mother Miranda was found dead just outside their family house in Chinatown of San Francisco. Natalie left home seven years ago, having committed the worst sin in her culture, the sin of not respecting her mother's wishes. Natalies has always dreamt of being a cook and having a restaurant of her own, while her mother thought she would never be able to cook as well as their formidable Laolao Qiao (grandmother).
In the seven years Natalie spent away from her home community, she enrolled in and failed culinary courses, which left her with no formal qualifications and evergrowing self-doubts. She also left a lovely, gentle man at the altar. You see, she and her mother were abandoned by Natalie's father before she was even born, so running away has become Natalie's default mode: beter leave before being left.
Back in her home community, she is helped to organise the funeral rites for her mother. The neighbourhood itself seems to have lost all its colours. The shops are failing as only rare customers find their way to Natalie's street and a real-estate agent-vulture is ready to sink her claws into whatever business property is left. Natalie finds out she has inherited her grandmother's restaurant which was closed after her laolao died but still has all the necessary equipment. Miranda left her daughter her blessing to follow her dream, as well as her grandmother's book of recipes.
For her restaurant to become successful, Natalie has to cook three dishes from this book for three neighbours who are in need of help. One of them needs more courage, others need 'to rekindle their love gone sour', the third…you'll have to read the book to find out. Laolao's food had magic healing properties that Natalie is only happy to try to recreate. Natalie gradually discovers that these people never abandoned Miranda in her time of trouble. They brought her shopping and kept her company for all the years Natalie was away. This is not the only discovery she makes. She finds out more about her family and the reasons for their choices in life:
My mother taught me to let your love make their own choice. My laolao taught that you needed to honor it.
Natalie's road to fulfilling her dream and bringing joy and harmony to her community is not straightforward, but that's what makes this novel such a wonderful read. Her first attempts to cook for her neighbours backfire and she needs to work out where she went wrong and what to do to make things right. There is also an added element of mystery (Why did severely agoraphobic Miranda step outside on the day she died?) and romance.
If you love food and believe in cooking with all your heart in order to take care of people around you, this book is for you. Food is one of the protagonists of this novel. When Natalie describes what she eats or cooks, she engages all your senses and focuses on colour, sound of crunching, texture, complimentarity of tastes. She makes you imagine sunshine of a spring day and delicious smells of Sunday breakfast cooked by your mom.
If you think 'no man is an island'and we should all help each other (sometimes just by listening and respecting the other's wishes and choices) to succeed, you'll find Natalie's neighbourhood full of incredible individuals who know the true meaning of the word 'community'.
On a separate note, writing about depression and its influence not just on the person who is suffering from it, but also their family and friends. Roselle Lim's portrayal of Miranda is sensitive and full of love and understanding. The use of magical realism – the bowl of tears, the criss-cross cut wounds of angry words, the magic flutter of birds flying away to mark and celebrate the feeling of freedom- all these images add to the beauty of the novel and make it even more memorable.
Definitely recommended. I'll be looking forward to reading Roselle Lim's future books, hoping they will be as enjoyable as her debut novel.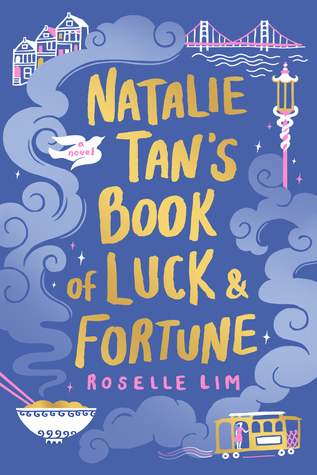 Thank you to Edelweiss and Berkley for the ARC provided in exchange for an honest opinion.